I am often asked "what app do you use to get those great photos on your phone?"  Usually followed by "I have that app but it doesn't work right!" I thought I had answered these questions but I guess it bears repeating since what I have to say is no secret!
Yesterday while attending an event for ASMP(a professional photographers association generally filled with talented people and lots of egos) a photographer was looking over my recent book of NYC iPhone photos and asked. "How do you do this?"  At first I was surprised by his question, I mean my goodness it seems rather obvious, doesn't it?  I have a phone, I see something, I record it and then sometimes I obsess (more on this later) over editing it on my phone.  It is that simple! OR is it?
The Empire State Building
Here is how I do it.  I play with my phone like my mom played with those purse sized word search puzzles.  If I am waiting for a train, I make photos and play. If I am sitting in a lobby, I play or make new photos.  If I am riding in a car, I make photos and play. If I am just bored with the conversation, I play.   It is like having a darkroom in my coat pocket without the stinky chemicals.  In short make photos. Lots of them and then play with them.  Practice, practice, practice.  The more you try the better you will get.
The first thing is having the phone(or camera), and not being afraid to make pictures with it.  Move past "I need a real camera." Past "people will look at me." Way past "I can't do this."  Just take out your camera (I mean phone) and make photos.  If you don't like the photo delete it!  No one needs to know.  Its not like the days of going to the drug store to pick up your envelope of out-of-focus bad prints that have been the amusement of all the high school aged lab techs.  Just make bad photos and delete them until you have a photo you like. Just keep making them.  Eventually you will figure out what works for you and it will be fun.  If it isn't fun then for goodness sake don't do it!
As I said in an earlier post, I use my phone camera to record the image and then "edit" the image in other apps.  I prefer to keep the image on file as I originally saw it. Apps like Hipstamatic are cool and I have seen lots of fun photos that people have made with it. It's just not my favorite.  However, I recommend having it on your phone and playing with it.
For my daily iPhone photo post I always put the Photoshop Express "film emulsion" border on the image.  It is my personal signature to everyone that this is from my iPhone.
So here we go…
Java Cafe in Rochester, NY iPhone4 with Photoshop Express
iPhone camera
Play with the exposure/focus, practice makes perfect. Make several photos touching different spots on the image to change the focus or exposure it's a good way to learn how the camera responds to light. It also helps you to see differently.
Photoshop Express
Basic steps.  Sharpen the image but only slightly.  Correct the exposure but be aware this adds contrast. Saturation can make a photo pop or be garish so use it wisely or creatively. Contrast can sometimes greatly improve the image. Crop and or straighten the image or be crazy and tilt the image! Add a border it you want.  Other options in PS Express I like: converting to B&W or vignette.  If you use the film emulsion border beware it will cut off some of the image.  To get around this put a white border on first, save it and then do the emulsion border.
Following are some examples of images and different apps I have played with on my iPhone.  In the order they are posted 1)above  iPhone with Photoshop Express $0   2) Hipstamatic $1.99   3) ColorSplash by Pocket Pixel $.99    4) PANO by Debacle Software  $1.99   5) Diptic by Peak Systems $1.99   6) Edwin Little $0  7) Lo-Mob $1.99 8) Pro HDR $1.99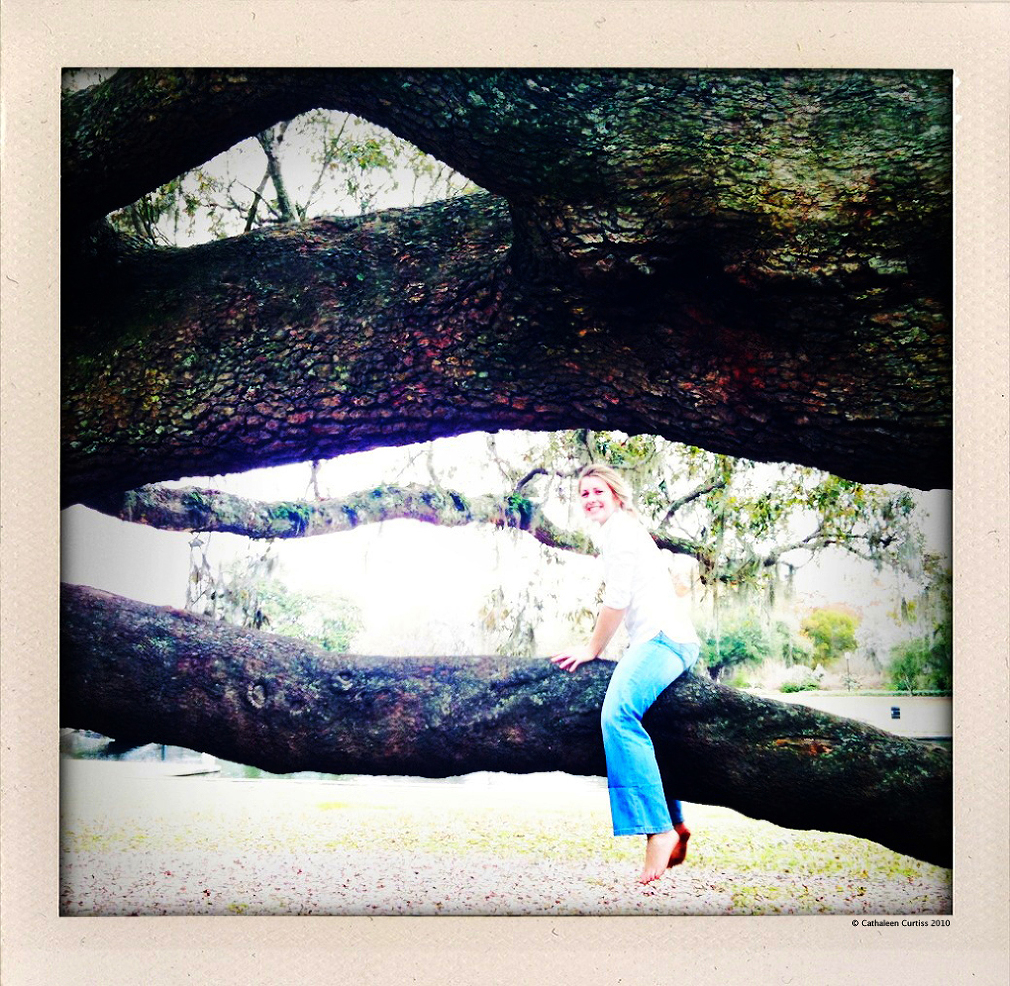 I was visiting Hannah and shot this with the Hipstamatic app.  I like the photo but wish I had a straight image to play with.
Alayna's wedding SC shot by Hannah Edited in ColorSpash app
This wonderful photo was shot by my daughter at her best friends wedding last week.  I just had fun playing with it on my iPhone in ColorSplash deleting all the color but the flowers.  With ColorSplash you can have all kinds of fun painting things to B&W while keeping some color.
Ella in Philly shot with PANO app on an iPhone3
PANO is one of my favorite apps.  I don't use it often but it is really fun.  You can make beautiful pano's easily and if you have a willing subject have them show up in multiple places in the photo as you make it.  It basically stitches together several  individual photos into one photo, this one has five photos.
Playing with exposures then merged in the Diptic app
This was created with the Diptic app.  It is just an example of how an image changes just by shifting exposure. Here are four photos all shot at the same spot the only thing that changed is where I touched the screen to pick up exposure.  The Diptic app can be a fun app to show the changing of time or different outfits on your pets or children. It has multiple templates to combine 2, 3, 4 and more photo into on image.
Skippy edited in the Edwin Little app
The Edwin Little app.  It's fun. Not my favorite but it is free.  It does decrease the size of your photo.
Paris and old photo edited in Lo-Mob app
This was created using the Lo-Mob app and an old photo from Paris.  Its fun to have on your phone to play with when you are bored. I would not say it is a must have.
South of the Border shot on iPhone4 using the Pro HDR app
Shot on the iPhone4 using Pro HDR.  One of my favorite apps especially at sunset and sunrise.
Don't break the bank, you can get some fun photo apps for under 2 Bucks. Be creative, have fun, the worst that can happen is you delete the image if it looks bad. That's the basics.  Now go have fun!
If you have any questions just post them in the comments and I will do my best to provide some answers. Thank you for reading.